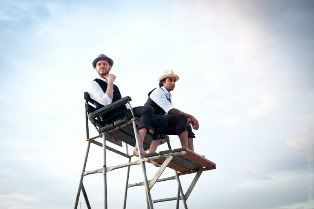 Sub Swara creates, constructs, produces and plays genre-bending bass music that parallels the diversity of their home town of Brooklyn, NY.  Consisting of Dhruva Ganesan and Dave Sharma, Sub Swara's musical genome brings together a wide assortment of DNA – from dub to hip-hop, dancehall to punk rock, and all the global sounds in between.  Meticulously crafted for both dancefloor intensity and cerebral curiosity, Sub Swara's music and live sets bridge the gaps that divide, uniting all tribes.  Sub Swara combines electronic production, live instrumentation, and 3000% of recommended energy levels to bring to life an inclusive, human experience that creates an inviting space for anyone and everyone.
Before this current evolution, Sub Swara was originally imagined and executed as a club night of the same name.  The monthly event focused on bringing together bass music of all creeds and cultures, becoming one of the most highly respected and popular club nights in NYC over its 3-year span.  Guests included luminaries like Mary Ann Hobbs, The Glitch Mob, The Bug, Bassnectar, Poirier and many others.  Sub Swara, together with peer events like Trouble & Bass and Dub War, catalyzed critical new directions in New York electronic music.
Sub Swara's debut album, Coup d'Yah was met with widespread acclaim upon its release in June of 2008. Critics and tastemakers from Pitchfork, to XLR8R, to BBC Radio 1 and FADER all lauded its seamless melding of varied beats, intricate live instrumentation from around the world and electronic production both deep and dancefloor-centric. The group toured extensively after its release, put out three volumes of remixes (remixers included Eskmo, Poirier and Mochipet), produced a dozen remixes for artists like The Glitch Mob, Balkan Beatbox and Bassnectar and released several popular white label remixes of tracks by the likes of Stephen Marley, Mos Def, Big Boi and Cee-Lo Green. Sub Swara's remix of Balkan Beatbox's Balcumbia was featured by the FADER and Nike in their world cup mixtape series, Pitch Perfect.
Sub Swara's second album, Triggers (released in November 2010 on Low Motion Records), continues the group's exploration and blending of different spaces in bass music and draws from a completely unique sound pallet that marries both live (much of the percussion is actually played by the group in addition to other instruments by guest artists) and electronic elements. The aesthetic is not tied to any single genre. It traverses through dubstep, hip hop, and sounds yet to be classified, binding these elements together with a strong melodic center, dancefloor energy and inventive production. Triggers was written as Sub Swara became increasingly live with their performances, having moved away from the traditional DJ set (without losing the intensity and dancefloor weight) and incorporating live drumming, re-composition and improvised sequences throughout their shows.
Whereas the vocal elements in Coup d'Yah were largely ragga-dancehall focused, the vocal collaborations on Triggers live in the realms of hip hop and soul. The album features collaborations with Dead Prez Lyrics Born, Kendra Foster of Parliament Funkadelic and the up and coming hip hop act, Freddie Mills. The instrumental collaborations feature the Afrobeat horns of Antibalas and a host of master session musicians from around the world.
The album was again met with extensive critical acclaim from The FADER, XLR8R, RCRD LBL, The Village Voice, NPR, KEXP and a host of other media tastemakers. It also hit the top 10 in both RPM and Hip Hop charts for CMJ and tracks routinely charted on the Hype Machine.
Amidst their extensive tour schedule, Sub Swara is currently tying off a new EP called Cloud Shores (set for release in the fall of 2011) as well as a grip of remixes for acts such as Matisyahu, CREEP, Psychobuildings, and Dub Trio.
They will also be introducing a new , state of the art visual rig and expanded live set that will be part of the touring show in the fall of 2011.